MP4 Video File Plays Fine But Has No Sound? Fixed
Published on June 12 2016
This tutorial will show you three possible solutions to solve MP4 video no sound problem.
In most circumstances, an MP4 video file should be supported by most media players. However, sometimes, you may encounter MP4 video no sound problem when you trying to play an MP4 video file through Windows Media player,VLC Media player, PS3, iPhone, etc. So what's the matter? In fact, there are many reasons to cause the problem. It could be any piece of software on your device that's causing the MP4 no sound problem or even the file itself could be corrupted beyond repair and it's simply impossible to know what's the cause in advance. Fortunately, there are always possible solutions out there to solve the prolem. In this article, I will show you three possible solutions to help you out of MP4 file no sound.
Solution 1: Try Another Video Player
The good news is that MP4 files having no sound is very rarely related to hardware. This means that you will most likely not have to fiddle with wiring or have to take your device to a licensed professional for a costly repair. If you played MP4 video in Windows Media Player with no sound, you an turn to other media player like VLC, GOM Player, MPC-HC player, to see if the file can be played correctly.
Solution 2: Downloading Missing Codecs
Codecs are little pieces of code sitting in the operating system and activated only when a certain multimedia file or a video game asks for them to be activated. If a specific codec isn't present or isn't working properly, the associated media file or function won't be able to activate. This can result in anything from video artefacts only in certain resolutions to sound distortions. Unfortunately, from time to time, software simply fails and there is nothing you can do to prevent it. Another problem is that codecs are considered non-essential and are generally up to the user to download and install.
Missing codecs will almost always be noted by the media player when you try to open the file that asks for them. The solution to this problem is fairly straightforward and involves downloading and installing the K-Lite Codec Pack by going to this link and clicking either of the links shown below.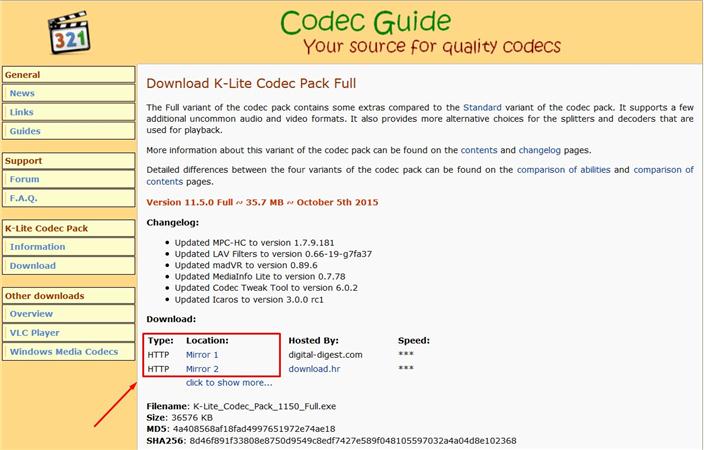 Solution 3: Converting MP4 files
In most circumstances, an MP4 video file should be supported by most media players such as the Media Player Classic, VLC, QuickTime and etc. However, they might not necessarily recognize the audio file's codec. For instance, iMovie only import MP4 files that are encoded with MPEG4/AAC or H.264/AAC data. And yet, MP4 is a video container format that may contain various audio and video codec (and sometimes even subtitle streams included). If the MP4 file is not encoded with iMovie support codec, iMovie will refuse to import this kind of MP4 video. In this situation, consider downloading and installing EaseFab Video Converter / Video Converter for Mac as an alternative.
As the best MP4 player alternative, it can easily play your MP4 files and also convert MP4 video files to a playable format with iOS and Android device or other devices without MP4 player. Come and download the powerful MP4 player alternative and let's start!
Step-by-step: How does this Professional & Powerful MP4 player alternative works?
Step 1. Add MP4 Video files

Install and run MP4 player alternative on your computer. Add MP4 Movie by clicking "Add Videos". You can directly drag and drop the videos to the alternative and Preview the whole MP4 videos on the Video Converter.
Note: This MP4 Converter supports batch conversion, so you can add several files at one time.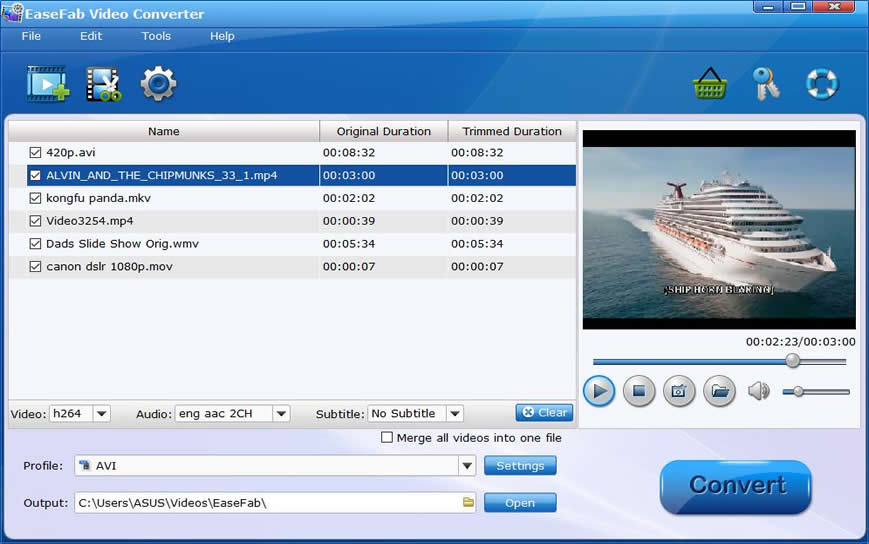 Step 2. Select output format
Then click "Profile" and move mouse cursor to "Common Video" category. All you have to do now is to select your output format either based on the favorite devices or format type. If you are currently using the QuickTime player for viewing or playback of your MP4 files, simply select MOV as your output format.
Note: You can choose any compatible format to your devices. For Samsung, iPad, iPhone, iPod, Apple TV, just choose the corresponding profiles from corresponding option.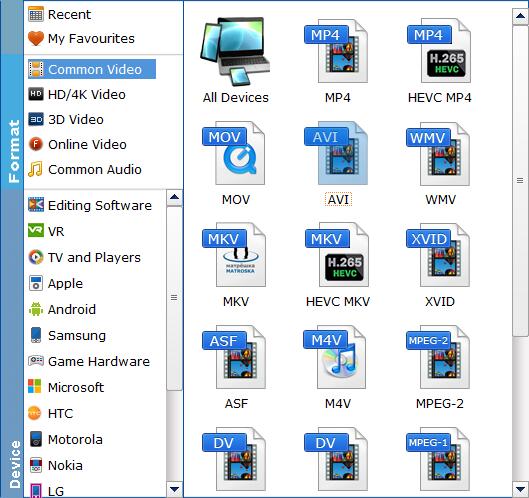 Step 3. Customize video specs (Optional)
You could also click the "Settings" to adjust the video and audio parameters of output files. In the Video Settings, you can select Encoder, Frame Rate, Resolution (you could define it yourself according to your Android Devices or other media player) and Bitrate for your movie. In the Audio Settings, you can select Encoder, Channels, Bitrate and Sample Rate for your movie.
Step 4. Start MP4 Video Conversion
You can hit the big red "Convert" to start converting MP4 to any format with best video settings for your Devices or computer. After the conversion, click "Open output folder" in the conversion window, or "Open" in main interface to quick locate the converted video.
What's more? With this best MP4 player alternative you can also edit your videos and rip your large Blu-ray/DVD collections to your devices, Just do it all right here, right now!
Now, you're stay away from silent movie, don't forget share this useful guide to your friends.
Related Articles and Tips:
How to solve MP4 and iMovie incompatible issues
How to get MP4 files into Avid Media Composer for editing
How to solve Sony Vegas won't open/import MP4 files?